Kopi Luwak Black Label - Nespresso Capsules
Kopi Luwak Black Label - Nespresso Capsules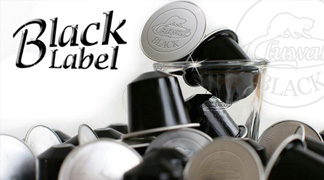 Brand:
CLUWAK
Product Code:
Black Label Capsule (Pack of 12)
Availability:
Out Of Stock
Price: $133 USD

Description
Kopi Luwak

Black Label - Nespresso Capsules
---

"Wonderful exotic spice and deep ripe berry with a mild roasted chestnut aromas, full body and haute acidity followed by a black fruity pastilles aftertaste"
REGION: GAYO | NORTHERN SUMATRA | INDONESIA
Real coffee lovers often seek balance in luxury and convenience amidst a busy, hectic day. Nothing can soothe them more than the wonderful exotic spicy flavor of coffee made from deep ripe Kopi Luwak berry that has a mild roasted chestnut aroma. Kopi Luwak Black Label beans, which come from the Gayo mountain in Northern Sumatra, Indonesia are processed by freely roaming wild Asian Palm Civets who pick only the best and the juiciest coffee berries through a process of natural selection. Traditional methods of brewing this exotic delight are perfect, but we have more good news, to all you coffee connoisseurs - now you can enjoy your morning and afternoon delight even better!
We have made your coffee brewing experience even simpler by packaging your favorite Kopi Luwak Black Label beans in Nespresso-compatible capsules. Yes, each Kopi Luwak Black Label single-serve capsule can be used in any Nespresso machine, so you can relish your very own cup of coffee any time of the day. Now you don't need to go out to an expensive coffee shop or settle for coffee "fresh" out of a can from the ice box. You can be your own barista, with the many options or variations you can create from a single-serve espresso machine. But the best thing is that you will be using the most luxurious 100% authentic wild roasted Arabica Kopi Luwak beans from Gayo that has been packaged into Nespresso-compatible capsules, exclusively for your own lavish consumption!
Gourmet coffee does not come cheap, but they do come in handy, convenient capsules you can use every time you need a treat for your otherwise hectic life. Black Label - Nespresso Compatible capsules are available in resealable packs of 12 capsules. They contain the same Arabica Kopi Luwak beans from Gayo, but are more finely ground and better tasting than ever!
Now you can relax and enjoy a perfect cup without having to bother about grinding or keeping your beans fresh. Beware, or you might just indulge more often in your favorite beverage.
Net Contents: Black Label - Nespresso Compatible capsules. Pack of 12.
Preparation and Usage: Black Label Espresso is perfect on its own. 100% compatible with Nespresso® System.
Storage: Store in a cool dry place.
About Kopi Luwak Nespresso-Compatible Capsules
Just a few years ago, coffee brewing technology reached new heights when the single-serve espresso machine (Nespresso machine by Nestle) was created. This single-serve capsule machine provides the luxurious convenience of creating single-serve lattes and cappuccinos that are as delicious as those sold by coffee shop baristas. The machines used to be sold exclusively to club members in Europe, but are now more available all over the world for consumers who want them in their homes and offices. The home espresso machine has become increasingly popular over the last two decades because of the 'pump' feature that provides power to quickly push hot water through the finely ground espresso. The best advantage of having these highly innovative coffee machines is that you can get your own fresh cup of coffee anytime from sealed capsules that retain the fresh flavor and aroma of your favorite coffee beans.
Now, the perfect cup of home-brewed coffee can be yours. When in the past, the "intelligent extraction" technology was protected by patents and owners of single-serve espresso machines were forced to buy their coffee from Nespresso, now you can enjoy more exotic flavors from coffee beans coming from the mountains of Indonesia. We have packaged our Kopi Luwak beans into Nespresso-compatible capsules so you can enjoy the luxury of drinking your favorite coffee at your convenience. Each single-serve capsule contains 100% authentic wild roasted Arabica Kopi Luwak beans either from the Gayo plantations in Northern Sumatra (Black Label) or the Bengkulu plantations in Southwest Sumatra (Gold Label). These beans are picked through a process of natural selection by freely roaming wild Asian Palm Civets, who have the eye for only the best and the juiciest coffee berries.
While traditional brewing methods using conventional filter system offer most consumers an aromatic and delicately-flavored cup of coffee, brewing very finely ground coffee beans through an espresso machine uses very hot water that is pushed through the grounds with great pressure. Espresso from coffee pods gets its distinct aroma and unique flavor through this special brewing process. Our new Kopi Luwak Nespresso-compatible capsules offer the exclusive luxury of an exceptional brew every time, with two rich and flavorful varieties to choose from – a perfect drink anytime.
Our Nespresso- compatible capsule alternative has been designed for use in the Nespresso® machines. We are constantly working to ensure that these capsules are developed to the highest standards available, ensuring effective function in compatible machines. Our aim is to offer every coffee lover a great option to enjoy their gourmet beverages, as one might expect from the high-tech espresso machine at their local coffee house. We are confident that you will enjoy your daily experience with our new Kopi Luwak Nespresso-compatible capsules.
Our Kopi Luwak capsules come in two varieties – Gold Label and Black Label Kopi Luwak ground beans. These coffee pods are 100% compatible with a wide range of Nespresso® Systems including these - Inissia, U, Pixie, Citiz, Maestria, Lattissima, Essenza, and Le Cube. Our exclusive coffee products are packaged in resealable air tight bags which contain 12 capsules.
Reviews (0)